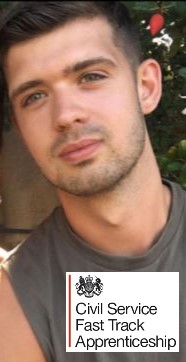 I began my career on the Civil Service Fast Track scheme in February 2017 and I haven't looked back since.
I applied for the scheme without having any prior knowledge of the Civil Service whatsoever. However, I read about previous Fast Tracker's experiences and knew I wanted to apply. While the application process took a long time, it was definitely worth it in the end as I was placed in the Department for Work and Pensions (DWP) as an Information Gathering Officer (IGO). I am based within Serious & Organised Crime (Fraud) and help conduct investigations relating to different kinds of fraud. This was a role I didn't even know existed, but now – a year later – I am enjoying the job and excelling in my role.
Straight from the get-go I was involved in interesting and challenging work which I loved! I felt like part of the team instantly and knew I was going to enjoy my time here. The work I do is varied and no two cases are the same.
As a Civil Servant I have been given so many opportunities to get involved with other parts of the Department, as well as taking part in activities outside of the day job such as a 5-a-side football tournament. Staff are encouraged to gain as much experience as possible and I have already job shadowed numerous different members of the DWP, showing me there are many career paths I could follow.
I am feeling very optimistic and excited about what the future holds and where my career in the Civil Service will take me. I urge you to apply – you won't regret it.