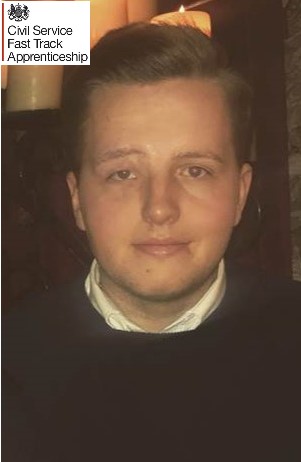 When I left Sixth Form, I didn't know what pathway I wanted to go down and as an 18 year old, I was concerned that I didn't have my career path already clear in my head, leading me to believe that the only option was for me to go to University, but then I found the Fast Track Apprenticeship Scheme.
I started the scheme in March 2017 and haven't looked back. Working for the Civil Service has allowed me to learn a variety of vital skills that I will be able to use in my future job roles and has given me a career pathway at such a young age. I am now completing a Level 4 Business Administration Qualification which is a higher qualification than anything I have completed prior to joining the scheme. The good thing about the qualification is that I am completing work within this which relates to my job role, without the costs incurred of going to University.
When I found out that I was going to be working for HMRC, I had the preconception that it was going to be a very formal place to work, however while we play a highly important role of helping to support our customers around the country with their tax issues, I have also been able to develop great friendships working here, working with supportive colleagues who have enabled me to go from a timid individual, to someone now able to deal with the many challenging but rewarding duties that come with being a Team Leader.
Working for HMRC is a very fast paced and ever changing environment, with no two days the same but this is part of the excitement of coming into work each day and is something that I have thrived upon since taking up this role.
I would never have thought that I would become a Team Leader within the contact centre at my age but the scheme has given me this platform to showcase my ability, but still provides me with the time in order to complete my apprenticeship and further develop myself.
Being on the Fast Track Apprenticeship is a great networking opportunity, meeting people from all different backgrounds who are each playing a small part in helping the government at the time run the country. I currently manage a team of 5 Telephony Advisors, supporting our customers to deal with a number of different tax queries. Being a Team Leader can be challenging but is certainly a rewarding role. Coaching these individuals who are new to the business and watching them grow to become confident individuals and able to deal with the many complex queries is the most rewarding part of the role, along with being that person that they look up to for leadership and support.
The Fast Track isn't like any normal apprenticeship, you are treated equally to your colleagues, being very much hands on and involved and also being paid an excellent starting salary of £19,500-£27,000 which is something that not many of the other schemes can offer you.
Now that I am a year into my apprenticeship, I can look back and see how much I have developed in that last year and the amount of opportunities and support I have been given. I am now looking forward to my future in the civil service and continuing to take the many different opportunities that will open for me in order for me to develop further.