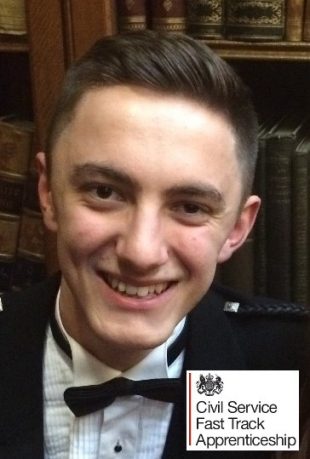 Hi everyone, my name is Gregor Henderson and I have been a Fast Track Apprentice for just over a year now.
My life has completely changed since joining the scheme. I left McLaren High School in 2016 after finishing my Highers in 6th Year. I lived in a small village in Scotland called Doune (where Monty Python, Outlander and Game of Thrones have been filmed) living with my parents and working full time as a supervisor in a small café there while deciding what to do next. I knew University wasn't for me so I looked for an alternative where I could enjoy both learning and working and the Fast Track Apprenticeship is definitely that. Since joining the apprenticeship I have now moved to Glasgow living in my own flat and now manage a team of 9 Social Fund Telephony agents in the Department for Work and Pensions in Springburn.
Every day is different in my role. My team answers Social Fund enquiries which include budgeting loans, funeral payments and maternity grants for people on benefits. I am tasked with managing performance, attendance and behaviours in my team and keeping everyone happy! At age only 18 when I started in the Department this seemed a daunting task but I have come to love the responsibility and experience the programme has given me so far. My role has also changed while in the Department as I used to be a Team Leader for Job Seekers Allowance enquiries.  I also enjoy the environment in my office where everyone is really friendly and supportive of the apprenticeship. The flexible working hour are great as well and allows me to still see my pals at Uni.
I have been given a vast variety of opportunities during this time including attending Senior Management meetings and taking over control of the Fast Track Social Media pages for a day. I am also looking forward to taking part in a jobs fair representing the Fast Track Apprenticeship Scheme at Glasgow Royal Concert Hall on the 21st of March.
I am currently halfway through my Level 4 Business and Administration Diploma and SVQ.  These qualifications are achieved through workshops, assignments and my skills coach assessing me in the workplace. The work is challenging and no two tasks are the same. Some of the workshops include communicating effectively and planning and implementing change. This learning is helpful for your role in the Civil Service and would be helpful in any other job you applied for after the scheme. Some of the coursework is also online through a great interactive portal. You also get assigned a skills coach in your apprenticeship so you are never alone with any questions or problems you have with the qualification.
The apprenticeship is a great start to successful career in the Civil Service. After I have completed my apprenticeship I hope to join the Fast Stream Programme and experience different Departments within the Civil Service.