I began the Civil Service Fast Track Apprenticeship in September 2013 as part of the first cohort.
I currently manage a team of 11 people in HMRC, the youngest of which is 33! My day-to-day role involves analysing data and statistics, helping motivate my team to reach their targets and dealing with complex HR issues for members of staff. I have to chair daily board meetings and work on problem-solving tasks in order to continually improve and develop my skills as a manager.
As part of our scheme we have to carry out 2 qualifications, a Level 4 HNC and NVQ. Balancing a full time job with getting my assignments in on time has proven challenging, however I can certainly say I've learnt good time management skills from it! I believe that being part of the scheme has really helped me develop my management skills (I hope my team would agree!) which I had no prior experience of, having come straight from my A-Levels.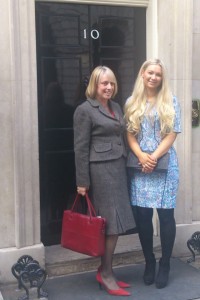 Visiting No. 10
My favourite moment so far was when I was selected to represent the scheme at a reception hosted by the Prime minster as No.10. It was surreal showing my invitation and being allowed inside, something I never dreamed I would ever do, especially after only 6 months on the scheme. It was an amazing day that I'll never forget, I feel so lucky to have had the opportunity.
I would recommend this scheme to anyone, it has helped me develop my skills in a hands-on job, as well as continuing my education by completing qualifications at the same time. The Civil Service offer you so many opportunities to develop and enhance your skills all over the country, while also offering brilliant benefits in terms of pay and flexible working.
Visit the Fast Track homepage on GOV.UK for more information on who can apply, how to apply and the different apprenticeship schemes on offer. 
You can also register for updates from our GOV.UK page and follow us on Facebook and Twitter.