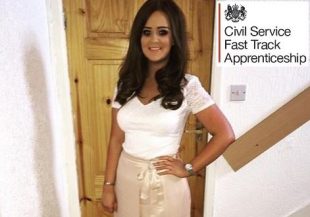 After 8 years in the hairdressing industry, I felt I needed a change in career and to learn something new. I was passionate about my hairdressing job but I knew deep down I wanted a career where I could have opportunities for development and progression. I first joined Civil Service in 2015 in HMRC as Customer Service Adviser and shortly after joining, I came across the Civil Service Fast Track Apprenticeship. After researching I thought this was the perfect opportunity for me to work and learn on the job and achieve a qualification at the end, so I applied for the Business scheme.
I completed an application form online, situational, verbal and numerical online tests and attended an assessment centre where I was tested on my Competencies during a 1-2-1 interview, a group exercise and a written exercise. After a few months I was informed I was successful and given my department and role.
I'm now 12 months into my apprenticeship and it's the best thing I have ever done in my career. My role is within the Planning and Resources team in HMRC. It is a fast paced role, no day is the same which is what I love best about my job. My first day I was really nervous as I was joining a department I had no knowledge on, but the team were really supportive.
I joined the team at an exciting time as a new National Planning tool was being introduced. Being included in the roll out and projects relating to the new Planning tool was really interesting and opened my eyes to what really goes on behind the scenes in business. I have learned so much new skills and knowledge over the past 12 months to contribute to completing my apprenticeship.
I've had opportunities to represent the Planning and Resources team travelling nationwide to visit different HMRC offices attending meetings and workshops and building working relationships with some inspirational people at various grades.
I have also had opportunities to attend careers fairs and delivered presentations to colleagues to promote the Fast Track and the Civil Service. Participating in those were great fun, meeting so many different people and being able to share my knowledge and experience of the Fast Track programme.
As part of the apprenticeship I attend workshops every 6 weeks, along with other Fast Track apprentices in Glasgow region. We have a fab little group, we all work well together and have set up a WhatsApp group to support each other. I have met some great friends through being on the Fast Track apprenticeship.
The apprenticeship isn't easy, it's challenging and you need to be willing to put in some of our own time and effort on top of your allocated study time to meet deadlines, etc but I think of it as a few years of hard work which will lead to the rest of your lifelong career. There are so many supportive people around you to for support, such as your manager, other apprentices and your designated skills coach so you are not in it alone.
I would definitely recommend the Fast Track Apprenticeship, whether it's someone like me who is looking to change career or someone leaving school. It's a fantastic opportunity to learn on the job whilst earning a great salary.