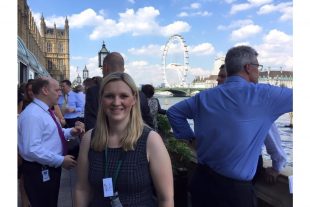 If I rewind to 3 years ago to January 2014 I was completing my final year of A levels. My future was exciting but also scary and unknown.
If someone had told me that by 3 years later in January 2017, I would have completed a level 4 apprenticeship in business worked in Westminster for the Civil Service, met inspiring people, learnt about the real world of work and just bought a house I would have never believed it.
Whilst I was completing my A levels I was told that the best route to any career was to complete a degree by all my careers advisors at school. However, I went to some university open days and I really didn't feel that it was for me. I enjoyed learning but when I realised I would have to pay £9,000 a year for tuition fees, the decision became more complex.
I started to look at alternatives to university. I googled Apprenticeships and found the Find an apprenticeship website. I researched different types of apprenticeships and I found out that there were apprenticeships called 'higher apprenticeships' which offered a higher qualification than A levels.
There weren't many companies that offered higher apprenticeships. I notice that the Civil Service offered higher apprenticeships. I had no idea what the Civil Service was, after a bit of research I realised it was a huge organisation that provides services all over the country from running employment services to working in the Prime Minster's office.
The Civil Service Apprenticeship appealed to me straight away, because it gave me the opportunity to join a company that has lots of roles, so I could find out what I wanted to do. The salary for the Fast Track Scheme was also a lot higher than all the other apprenticeship schemes offered.
In February 2014, I started the application process for Civil Service Fast Track. The Civil Service application process was daunting at first but there was an explanation of each stage on the GOV.UK website. I submitted my application form a minute before the deadline; I then had an email a few weeks later to complete the online verbal and numerical reasoning tests. I practised online a lot for these but I wasn't confident I would pass. A few weeks later I was invited to the assessment centre; this was extremely nerve wracking. I spent a week preparing looking at the Civil Service Competencies, and thinking about examples that I could use.
I arrived at the assessment centre in central London, and I was so nervous but I knew that I had to do my best. When I was in the assessment centre, I was made to feel very welcome and I really could see myself working for the Civil Service.
At the beginning of May I got the email, which began the next chapter of my life. I had been successful with my application and was invited to join the Fast Track Apprenticeship scheme in September 2014.
I was placed in the Department for Environment, Food and Rural Affairs (DEFRA) in the Customer Contact Unit, where I responded to correspondence to members of the public who had written to the government. I then moved roles after 3 months to join a policy team which dealt with exporting meat to non-EU countries such as China, Japan and the USA.
I learnt so much whilst at DEFRA, about the real world of work and I was very lucky to meet some inspiring people throughout my journey who really helped me develop and progress throughout my time there.
My passion for this wonderful apprenticeship scheme grew. I was regularly involved with events to promote Fast Track, I mentored other apprentices. I applied for a temporary promotion in January 2016 in DEFRA and I was successful. This gave me the confidence to look for a permanent promotion at the end of my apprenticeship scheme in July 2016.
In August 2016, I was successful at being promoted to my dream job of Fast Track Marketing Manager. I am now responsible for promoting this fantastic scheme to others, and encourage other talent to join the Civil Service.
The highlights of my Civil Service career have been working with a fantastic team of people in DEFRA and Civil Service Resourcing. It is hard to put into words the enthusiasm and passion civil servants have for their job. I always try to develop my knowledge and skills to deliver the best in my role and I have found everyone so helpful and willing to share their experience and skills with me.
Apply for the Fast Track Apprenticeship Scheme because the world is then your oyster and with motivation, support and encouragement you can achieve anything!
Register your interest to find out more about the Fast Track and when you can apply