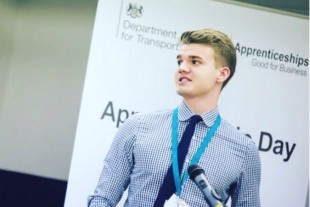 Hi I'm Stephen, I joined the Civil Service in September 2014 on the Civil Service Fast Track Apprenticeship Scheme; I started as a Capability Practitioner in HMRC's Chief Technology Office. Whilst on the scheme I worked towards two recognised qualifications, a Level 4 HNC and NVQ in Business.
The route I took into the Civil Service was not your typical one, as I left college entirely unsure of what it was I wanted to do or study. I opted for part-time work whilst I took the time to figure this out, eventually this turned into a full-time position. Then, at 20, I resigned from my full-time job to join the Fast Track Apprenticeship Scheme, mainly due to the exciting career prospects the Civil Service has to offer. At the start of my apprenticeship, I was worried that I would be treated like a temporary member of staff but I immediately felt like I was part of a team and making a real difference.
Managing the demands of a full-time job and studying at the same time is tough but the rewards are more than worth the effort. As well as the recognised qualifications, I have been overwhelmed with support, guidance and opportunities to help me develop in confidence.
In November 2016, I was promoted to a Business Analyst in HMRC's Development, Test & Operations – Core Business Platform. I am now responsible for providing day-to-day analytics and leadership within multi-disciplinary teams to support the biggest digital operation in Government. In addition, I have been encouraged to seek further education and I am currently working towards the BCS International Diploma in Business Analysis.
I feel that the Fast Track Apprenticeship Scheme has been invaluable and the skills and expertise I have gained along the way will be vital to my career as a Civil Servant. The whole experience has been a fantastic opportunity to kick start my career, broaden my knowledge and meet some amazing people along the way.
The application window for the Fast Track apprenticeship is now open! Please click here for more information
You can also register for updates from our GOV.UK page and follow us on Facebook and Twitter.