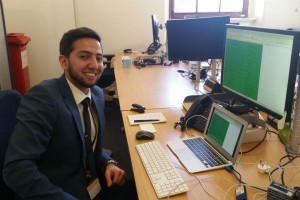 I applied to be a part of the first ever Civil Service fast track apprenticeship, as I wanted to get a head start in my career. After a few initial tests and an assessment centre, I was one of 100 successful applicants out of the 3000 that applied to gain a place. I had been lucky enough to start my career working in the Cabinet Office.
I started working in Cabinet Office in September 2013 for the CEX HR Director. My role at first included creating and maintaining a Management Information data pack, this held vital recruitment information such as how many people were coming into Cabinet Office during that month, how many people were leaving, fixed term contracts and sickness data.
This involved me liaising with HR business partners, to ensure that the raw data that was given to me was as accurate as possible. As the data pack would lead up to the Chief Operating Officer at the time, and the Permanent Secretary where they would decide on important outcomes from the data pack.
I recently moved into the Chief Executive of the Civil Service's office and my role entails providing support to the Chief Executive and his immediate team. My role includes various tasks, including IT support, data management and one of my key areas of responsibility has been creating and maintaining the Chief Executive's correspondence log. This process ensures that all letters from members of the public and ministers are recorded in a timely manner and appropriate responses for the Chief Executive are commissioned accordingly. This is a vital cog in the wheel in ensuring that the Chief Executive's offices runs smoothly and is represented professionally to both internal and external stakeholders.
During my time I have been able to partake in amazing opportunities that were given to me. I have been able to sit in a Public Accounts Committee hearing behind the Chief Executive for the Civil Service; it is not everyday you get to sit in the House of Commons and be a part of a meeting that is published on a BBC news article with yourself in the background. Albeit not the best photo of myself, but I was there!
I have also been able to spread the word about apprenticeships at a talk I did for my old college, where I had the chance to meet students and inform them of the great opportunities given by this apprenticeship scheme. Recently I was also asked to speak at an event for school leavers planning their next career move, and I had the chance to give them some motivation to join the workforce and be a part of the new 'wave'.
These are but a few of the amazing opportunities given to me whilst being on the scheme!
I believe there isn't a place better to work; I have had one hell of an amazing journey during my time in Cabinet Office thus far, and honestly speaking if I could go back and choose either university or to be a part of the first ever civil service fast track apprenticeship again, I would choose this every single time.
Visit the Fast Track homepage on GOV.UK for more information on who can apply, how to apply and the different apprenticeship schemes on offer. 
You can also register for updates from our GOV.UK page and follow us on Facebook and Twitter.