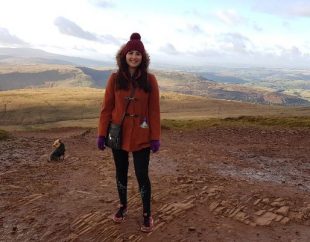 How did you hear about the Civil Service Fast Track apprenticeship?
After completing my A levels in school, I decided against going to university (the original plan was dentistry) to go straight into employment. I heard about the Civil Service Fast Track Apprenticeship through my parents, as both are former Civil Servants. Having not chosen the option of further education, I wanted to prove to myself that I could successfully obtain a higher qualification.
Did your parents go to university? Was this their expectation for you? How did they feel about you choosing to undertake an apprenticeship?
Neither of my parents went to university, however my brother successfully obtained a master's degree in London. I think the expectation was that I would follow him and go to university to "unlock my full potential", although, I felt that wasn't the right choice for me. I think there is a lot of pressure on school leavers to know their future careers and immediately pursue that path. I am fortunate that my family have always been very supportive and proud of my life choices, and choosing the Fast Track apprenticeship is inclusive of those choices.    
What attracted you to the Fast Track apprenticeship?
One of the key things that attracted me to the Fast Track apprenticeship was the salary. Having completed an apprenticeship with a previous employer on a far less wage, I can happily say that I doubled mine by becoming a Fast Track apprentice. I also really liked the option of flexible working and career progression opportunities, so much so that I gave up my John Lewis discount card for good!
How did you find the assessment process? (Written and group exercises, and the one-to-one interview)
The application process involves several steps, similar to the Fast Stream. I found the online tests fairly straightforward, but the time bound tests were challenging. Successful candidates then progressed to the half day assessment centre. I was initially nervous as it was a new experience, distinct to most recruitment processes I had previously completed. The day consisted of a 45 minute interview, group exercise and written assessment.
I had basic knowledge of the competency framework, which I felt helped me during the interview. At the time, I thought I had failed the written assessment as the time limit seemed to be up within minutes. I think this helped me relax for the group assessment, which I actually quite enjoyed! We were asked to give a presentation regarding budgetary spending to improve public services. All of the candidates were really friendly and genuinely wanted each other to do well in the process.
Which scheme did you sign up to?
I originally opted for the Finance scheme, however as my preferred location was Cardiff, I was offered the Business Administration scheme. The Business scheme consists of a Level 4 HNC/Diploma in Business and a NVQ in Business Administration.
Which department are you working in?
I work for HMRC in Cardiff, specifically in Personal Tax Operations that provides services for individual customers' tax. I have had a number of roles during my two years since joining the department.  
What does a typical day look like?
I would say no day is a typical day as it can vary greatly. I may be organising an event/stall to inform colleagues on volunteering opportunities in HMRC. I could be contacting colleagues congratulating them on their success with a recent job application. Other times, I may be meeting with apprenticeship colleagues, discussing any issues or best practice for apprenticeships across HMRC.
Fortunately I have been based with the senior leadership team, so I often get involved with any additional tasks they require me to pick up. It's the variety that keeps me busy and interested in my work.     
What networks has being on the programme opened up to you?
I have had the opportunity to mentor others and receive mentoring from senior members of HMRC. The programme has given me the platform to be involved in interesting projects such as the pilot trial of web chat in the tax credit line of business. I have had the opportunity to co-organise a conference for the Director of my directorate. Additionally, I have been involved in several projects to help improve and better apprenticeships, working with apprentices across various government departments. One of my roles is the volunteering and charity lead for the department, which gives me a niche area of responsibility.  
Did you experience any challenges in your role? How did you overcome these?
My first role was a team leader, managing a team of 13 probation telephony staff on tax credits. Some of my team were significantly older than me, which I found quite daunting initially. I always tried to support my team as I wanted to gain their respect and trust, regardless of my age. It was my first experience of management, so I found it especially challenging balancing learning a new role and completing my apprenticeship coursework.
Knowing my support systems and being able to rely on the advice of my experienced colleagues helped me copiously. I ensured I took as many learning opportunities as possible to develop my own knowledge and skillset. It was also important that I understood my limits. After nearly a year, I asked for the opportunity to change roles, as I had gained masses of evidence for my apprenticeship and wanted to prioritise catching up with my coursework.    
What do you most enjoy about your role?
I have really enjoyed the variety of my role and the number of opportunities/projects I have been involved in. It has given me lots of experience and confidence, which I now use to help support and develop others. Being an advocate for the apprenticeship is really important to me, as I was one of the first apprentices in my area.
Joining the Civil Service was a huge decision for me, so helping others making that transition through the Fast Track apprenticeship is something I am really passionate about. I try and encompass mentoring/coaching into all of the roles. I feel I am developing myself when supporting the development of others.  
What do you think your next step beyond the programme will be?
Having successfully passed the apprenticeship and gained my Level 4 qualification, I am considering whether to complete an Open University course to top up my qualification to a full degree. Currently, I am looking forward to going into a new role and seeing what further opportunities will arise in the near future. The plan is to aim high, so hopefully a promotion will be in the near horizon!