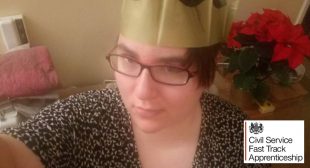 13 February 2017 started a change in my life. Not many people at the age of then 30 get a chance to change what they are doing in life but I did.
This was the date that I joined the Ministry of Justice on the Fast Track Apprentice. When I started I joined the then Change and Improvement team as a Change Support Officer. To say I had no idea what I would be doing is a complete understatement, I thought more along the lines of "Yes Minister" (Yes I am that old) but I was pleasantly surprised.
The team, now the Engagement and Performance Team, deal with Social Mobility, Diversity and Inclusion as well as Engagement and Wellbeing. Luckily these are things that I am very passionate about. I have managed to gain some valuable experience and have done things that I could not believe I was able to be a part of. Notably, my team and I, ran the very first Social Mobility Live event. This was so amazing being a dyslexic woman from Ladbroke Grove helping the team champion Social Mobility within the Civil Service. Everything that I work on whether it is creating and running a lunch and learn or arranging meetings counts towards my qualification and the people I have met so far in my 10 months are fantastic.
Due to my advanced age in comparison to other apprentices I had much more work experience previously and as such had some things that made me, and still make me nervous with what I do, however, thanks to the support of my team, skills coach and classroom teachers I have started to work on this!
So, what is next for me?
I am looking at qualifications to do next and am considering doing the Level 5 & 6.  I. possibly am going to consider specialist qualifications as well. This is for when my qualification ends. Before that, my team leader and line manager have arranged for me to do my own mini Fast Stream Programme within my apprenticeship to help with my ability to gain my qualification. This means that I will be moving round the Operations Group within the Ministry of Justice which I am very happy about but also very nervous. This is all about pushing my confidence and gain my more experience within the MoJ.