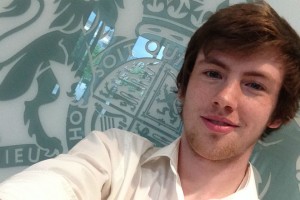 At times it's still surreal when I collect academy data from a headteacher, provide a briefing for the Prime Minister, or even just wake up and catch the train to work.  
Just over a year ago, I was still eating pizza on my sofa, revising for my A-levels. Now, I'm in the big, wide world, working as an executive officer at the Department for Education. My name is Jack Gascoyne. I'm 19 and, since 15 September 2014, I've been a civil servant.
So, how did I discover the Civil Service?
While in the sixth-form common room, I heard a teacher announce the opportunity to meet an apprentice on something called the Civil Service Fast Track Apprenticeship Scheme. I wanted to get out there, to learn on the job. The Fast Track Apprenticeship could offer me just that opportunity. I kept my options open and applied.
Happiness and relief
The application process included online tests in maths, literacy and decision-making, and an assessment day. The day included an interview, a written exam and a group exercise. This process took place over roughly two months and by the time I had finished the assessment day, I was exhausted! So, you can imagine my happiness and relief when I was successful.
I remember thinking afterwards: "But er, what will I be doing?" I knew I was to become a Civil Service apprentice completing a Level 4 HNC and NVQ. But, for a while, the meaning of that statement simply washed over me. Now, nine months in, I'm feeling confident and making headway with my courses. We've studied a variety of business units from tall, hierarchical organisational structures, to the classic motivational pyramid of Maslow, and we've another year to go.
Proud to be a civil servant
Finding you have a job, study and home life to balance can be daunting, but there have been plenty of people around to help. Living by myself and working full time gives rise to things you don't tend to think about as a teenager - housework, managing my income, organising everything from dentists to holidays and looking after my cat. It's something I'm incredibly proud to be doing (I'm still in shock that I have a mortgage at 19!). I guess, as the saying goes, "with great power comes great responsibility".
For someone who wanted real-world experience, I feel really lucky. I enjoy my job and, what I think is even more important, I'm proud to say I'm a civil servant. If the planets align, I may even get promoted and climb a little higher in the department. It's certainly a life goal for me to learn and excel.
In case you're wondering, I got a B in Media, a C in English Language and a D in German; it's pepperoni pizza on all occasions; and my cat's name is Layla.  
And, yes, I did quote Spider-Man. Well done to those who noticed.
Visit the Fast Track homepage on GOV.UK for more information on who can apply, how to apply and the different apprenticeship schemes on offer. 
You can also register for updates from our GOV.UK page and follow us on Facebook and Twitter.