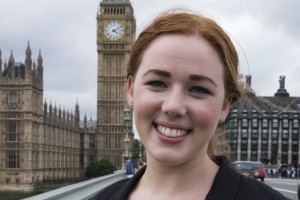 My name's Rebecca, I'm 18 and I work in the ministerial private offices at the Department for Communities and Local Government, in Westminster.
After deciding to stray from the conventional pathway of college and university, I began looking for alternatives. I had a look through the opportunities available on the apprenticeships.gov.uk site and was really impressed by the range of professions that were on offer! When I saw the Civil Service apprenticeship vacancy, I knew it would be the perfect platform for my early career and applied right away!
Aged 16, I joined the department on a 12-month apprenticeship and have since been promoted to a permanent member of staff.
To this day, I'm convinced this was one of the best decisions I have ever made. I'm so passionate about the job I'm in, the people I work with, the work we do, and the places it has taken me!
One thing that really shines as a career highlight so far has to be my first trip to 10 Downing Street. Not only did I manage to get the cliché photo at the front door, but I was also personally introduced to the Prime Minister!
Another highlight has been attending a debate at the House of Lords with the department's Lords minister. It was an entirely new experience for me, and it was unbelievably different to the action that we often see in the House of Commons, and certainly a lot calmer!
No typical day in the office
It's tough to describe a 'typical day' in private office. Every single day brings with it a fresh batch of challenges and hurdles. There are, however, a few tasks that I find myself doing on a day-to-day basis. These include managing the email traffic for an inbox that receives at least a thousand emails a day, running the diary of the department's two special advisers, processing ministerial correspondence, producing a duty rota for all ministers, and other general administrative tasks. It's fair to say I'm never bored!
If you're considering a career in the Civil Service, I'd say go for it! I cannot imagine a better workplace. It is incredibly supportive of your personal development; it covers the broadest range of careers you could imagine; there's an amazingly professional yet sociable vibe; you'll earn a decent salary; and just by turning up to work, you really can make a difference to the lives of everyday people!
Visit the Fast Track homepage on GOV.UK for more information on who can apply, how to apply and the different apprenticeship schemes on offer. 
You can also register for updates from our GOV.UK page and follow us on Facebook and Twitter.